When:
December 5, 2018 @ 7:30 pm – 10:00 pm
2018-12-05T19:30:00+00:00
2018-12-05T22:00:00+00:00
Where:
Huntingdon Town Hall

We have a set of lectures coming up at the end of November/beginning of December, with some top class speakers.
If you would like to book for all three talks, you can book a discounted 'season ticket' for all three at: https://www.eventbrite.co.uk/e/the-cromwell-lecture-series-2018-tickets-51148951892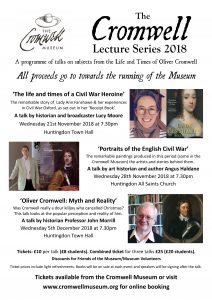 The final talk (on 5 December) is 'Oliver Cromwell: Myth and Reality' by Professor John Morrill, who many of you will know of. Details and bookings for this talk alone are at: https://www.eventbrite.co.uk/e/oliver-cromwell-myth-and-reality-a-talk-by-professor-john-morrill-tickets-51145209699
Tickets are also available from the front desk at the Cromwell Museum.