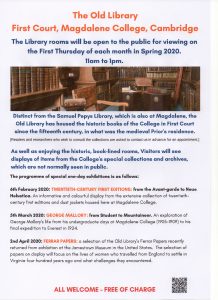 The Library rooms will be open to the public for viewing on the First Thursday of each month in Spring 2020, 11am to 1pm.
As well as enjoying the historic, book lined rooms, visitors will be able to see displays of items from the College in First Court since the 15th Century, in what was the medieval Prior's residence. You can view more information about the Old Library online at [https://www.magd.cam.ac.uk/old-library].
The small displays referred to in the poster on the left to Huntingdonshire LHS members, particularly the April one to those who read the article on Virginia Ferrar by David Ransome in the last issue of Records or earlier papers by David on the Ferrar family published online in [Local History Articles] page
In addition to the Old Library, the College also houses the Pepys Library which is a separate library.