Come and join us on Wednesday 10th October at 7:30pm in the Methodist Church, the High Street, Huntingdon for a look into the archaeology of the A14 Cambridge to Huntingdon improvement scheme,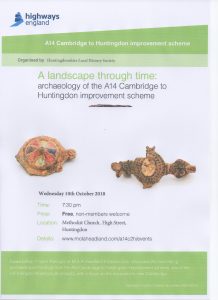 This is one of the UK's largest infrastructure projects which has uncovered vast amounts of archaeological evidence from prehistory to relatively modern time along the new A14 corridor. Emma Jeffrey, Project Manager at MOLA Headland Archaeology will tell us about the fascinating work that over 500 dedicated archaeologist and 20,000 people through community outreach programmes have been undertaking. They have uncovered Neolithic Henge monuments, prehistoric burial grounds, Iron Age and Roman settlements, Saxon settlements, the deserted medieval village of Houghton and brick kilns and wells.
The event is free to non-members.