Apr
10
Wed
Societ Lecture – The Curious History of Labyrinths and Mazes

@ Huntingdon Methodist Church
Apr 10 @ 7:30 pm – 10:00 pm
The Curious History of Labyrinths and Mazes – Julie Boundford
Following a book on Heffers, the Cambridgeshire bookseller, Julie was commissioned to write one on Mazes and Labyrinths. From prehistoric times mazes and labyrinths have served as different symbolic, ritualistic and practical purposes. She will tell us about her discoveries, local and further afield.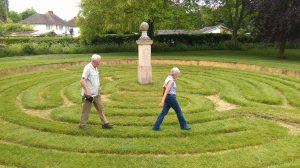 We have our own mystical labyrinth at Hilton, which the Society visited in 2016
The symbolic meaning of labyrinth is often associated with the various symbolic meanings of the spiral in that we can trace our footsteps (both metaphorical and literal) back to and from the centre.