Mar
13
Wed
Society Lecture – The Changing Fields of Huntingdonshire

@ Huntingdon Methodist Church
Mar 13 @ 7:30 pm – 10:00 pm
The Changing Fields of Huntingdonshire – William Franklin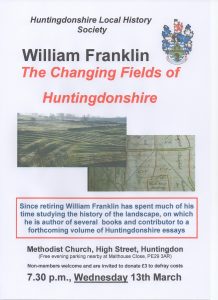 If you have wondered about the shape and structure of field boundaries, how they were formed, when they were laid out and by whom, and how this was influenced by the then owner of the land, the King, Church, Lord or State. Then come along to the Methodist Church on Wednesday 13th March and get to know about the intricate and often bizarre shape of our field boundaries.
The speaker tonight is William Franklin, whose most recent book, "An Agricultural History of Ely" was given an award by the Cambridgeshire Association for Local History (CALH). This is, however, only part of his broader investigation across the county into the development of fields from antiquity to the age of parliamentary inclosure.
Apr
10
Wed
Societ Lecture – The Curious History of Labyrinths and Mazes

@ Huntingdon Methodist Church
Apr 10 @ 7:30 pm – 10:00 pm
The Curious History of Labyrinths and Mazes – Julie Boundford
Following a book on Heffers, the Cambridgeshire bookseller, Julie was commissioned to write one on Mazes and Labyrinths. From prehistoric times mazes and labyrinths have served as different symbolic, ritualistic and practical purposes. She will tell us about her discoveries, local and further afield.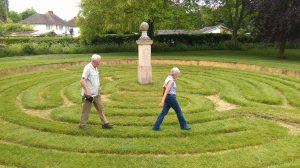 We have our own mystical labyrinth at Hilton, which the Society visited in 2016
The symbolic meaning of labyrinth is often associated with the various symbolic meanings of the spiral in that we can trace our footsteps (both metaphorical and literal) back to and from the centre.