If you have any questions about your submission, need help with downloading the application form or assistance with completing your application then please get in contact with the Goodliff Administrator, Kate Hadley, either via email to goodliff.awards@gmail.com or by using the Contact page on this website.
A Word version of our application form can be downloaded by clicking on the picture of the form, here: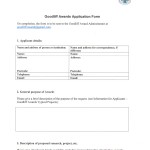 The pdf version of the application form can be downloaded here: Goodliff Award Form_pdf
On completion, the Application Form is to be sent to the Goodliff Award Administrator at goodliff.awards@gmail.com.
All applications have to be with the Goodliff Administrator by noon on 31 March.