When:
April 6, 2017 @ 7:30 pm – 10:00 pm
2017-04-06T19:30:00+01:00
2017-04-06T22:00:00+01:00
Where:
Huntingdon Methodist Church
High St
Huntingdon PE29 3TE
UK

The People who drained the Fens: Promoters, Engineers and Workers – Dr Philip Saunders.
This is a change to the originally advertised programme. Unfortunately, Dr Stephen Upex, who was to speak on Saxons in Huntingdonshire, is unwell and will be unable to talk to us on Thursday 6 April. We wish him the very best for a full recovery.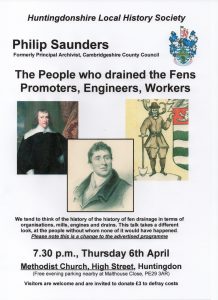 We are fortunate that our own Chairman, Dr Philip Saunders, will delight us with a different perspective of the drained the Fens. He will be expanding upon a short talk that was given to the Ouse Washes Landscape Partnership conference in November 2016. We tend to think of the history of fen drainage in terms of organisations, mills, engines and drains. However, without the promoters of drainage driven by economic necessity/profit, the engineers who designed the drains and waterways and the workers who toiled to dig the drains none of the changes to our landscape would have happened. Although not especially focused on Huntingdonshire, it should be remembered that a substantial part of the county fell within the Great Level of the Fens commonly called the Bedford Level. This is also a topical issue as the Cambridgeshire Records Society has recently reprinted Jonas Moore's Mapp of the Great Levell 1658 and Dr Saunders will bringing copies of the map to the talk.