When:
October 10, 2018 @ 7:30 pm – 10:00 pm
2018-10-10T19:30:00+01:00
2018-10-10T22:00:00+01:00
Where:
Methodist Church, Huntingdon
High St
Huntingdon PE29 3TE
UK

Wednesday 10 October A Landscape through Time – A look at the Archaeology of the A14 Cambridge to Huntingdon Improvement Scheme.
Please note the following important dates including some changes: This and subsequent Lectures: These will be on Wednesdays at our usual venue, Huntingdon Methodist church. From this month onward the usual day of meetings will be the second Wednesday, as the church is no longer available regularly to us on Thursday evenings.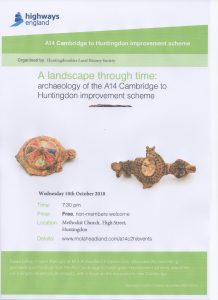 Emma Jeffery, Senior Archaeologist at MOLA Headland Archaeology will talk about the astonishing discoveries taking place as a result of the A14 Cambridge to Huntingdon improvement scheme. A walk through centuries of history from prehistoric settlements, pottery and ditches, Roman broaches and pottery production, medieval village lost and found.
Click on the picture for a larger and printable version of the poster.
The lecture this evening will be free to non-members.