When:
November 9, 2017 @ 7:15 pm
2017-11-09T19:15:00+00:00
2017-11-09T19:30:00+00:00
Where:
Huntingdon Methodist Church

John Berridge of Everton and the Evangelical Revival.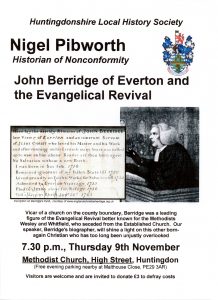 We all know of the Wesleys and of the lay persons like Hannah More and Wilberforce. Others will know of Lady Huntingdon, Henry Venn and Charles Simeon, but John Berridge is comparatively neglected in publications of the evangelical awakening spreading through the countryside in eighteenth century England. Even in Huntingdonshire where he was vicar of Everton-cum-Tetworth, his exploits and impact have been all but lost.
Our speaker is his biographer and has recently edited a volume of the man's letters, and will seak to enlighten us on how his unusual approach to open-air preaching and directness of speech earned him his reputation of being quite eccentric.