When:
November 12, 2019 @ 7:30 pm – 9:30 pm
2019-11-12T19:30:00+00:00
2019-11-12T21:30:00+00:00
Where:
Huntingdon Methodist Church
17 HIgh Street
Huntingdon
PE29 3TE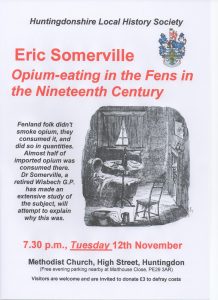 Opium Eating in the Fens – Talk by Dr Eric Somerville
In the 19th Century opium was commonly used as a remedy for a large number of common ailments. It is hard to believe that it was possible to walk into a chemist shop and buy without a prescription cocaine and laudanum. Opium preparations, ('little white powder') were freely sold in towns and markets and in the countryside by travelling 'hawksters'. Taking opium became as popular as alcohol. Surprisingly, opium was also used as a 'quieten' tincture for children.
Dr Eric Somerville is coming to speak to us about "Opium-eating in the Fens in the Nineteenth Century". It's interesting to learn that fenland folk didn't smoke opium, they consumed it, and did so in quantities, to the extent that it has been calculated that half of imported opium went there. Dr Somerville has made an extensive study of the subject and since he's a retired Wisbech G.P. expect some reflections on drug use today.
Admission free to Society Members, guests are welcome and we ask for a small £3 donation for the evening.
Parking: Building work has now started at the church and there is only Disabled Parking there, so please allow a few minutes more to park in Malthouse Close or Ingram Street car parks.