Feb
19
Tue
Peterborough Museum – Fantastic Beasts

@ Peterborough Museum
Feb 19 @ 7:30 pm – 9:30 pm
19 Feb 2019 7.30pm*
Fantastic Beasts and where to find them
Find out more about the Bonicon, a medieval beast found at Longthorpe Tower, Castor church and the Peterborough Besitary. This talk focuses on the Romanesque capitals of St Kyneburgha church, Castor and the local landscape in medieval times.
Dr Susan E Kilby, Medieval Historian, University of Leicester

Mar
30
Sat
Your Roman Past – Nene Valley Archaeology

@ Castor CP School
Mar 30 @ 9:00 am – 5:00 pm
Your Roman Past – Saturday 30th March 9AM to 5PM – Castor CP School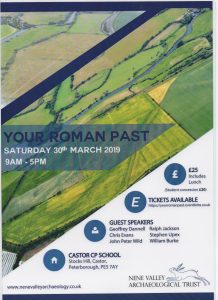 The Nene Valley area is literally covered with Roman forts and occupation following the main arterial road Ermine Street. Perhaps the most well known site is just to the north of Peterborough close by Water Newton just off the current A1. The Roman Town of Durobrivae and the Roman fort adjacent to the town protecting the crossing of the river Nene.
Come along to this exciting day of exploration of our Roman history and listen to the guest speakers, Geoffrey Dannell, Chris Evans, John Peter Wild, Ralph Jackson, Stephen Upex and William Burke, talk about the influence of Roman occupation in the Nene Valley.
Tickets can be obtained through Eventbrite, cost £25 including lunch. Student concession £20
Jun
29
Sat
Huntingdonshire History Festival
Full details to follow shortly