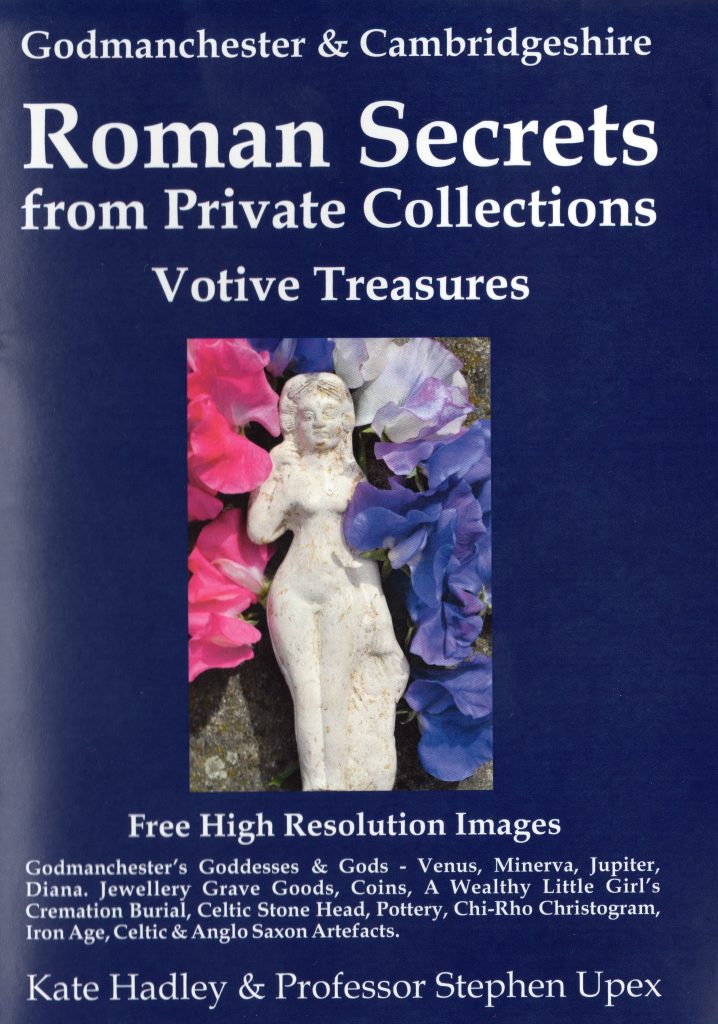 This Roman Collector's Catalogue is reproduced here with the kind permission of the Copyright holder Kate Hadley
Copyright Kate Hadley, Roman Collector's Catalogue 2017, All rights reserved
This material can be used and reproduced for personal research, literary and educational use, with attribution to the copyright holder.
Higher resolution copies of individual photographs used in this catalogue can be requested from Huntingdonshire Local History Society, at info@huntslhs.org.uk , and the Porch Museum, Godmanchester www.godmanchester.co.uk. For efficient response please Include your contact details, email and telephone number. Both websites will carry more pictures from the Free Ancient Treasures Pictures and Catalogue Entries Project.
Commercial use: No part of this publication may be reproduced, stored in a retrieval system, or transmitted in any form or by any means – electronic, mechanical, photocopy, recording, or any other – without prior permission of the copyright holder.
ISBN: 978-1-911526-17-9
First published by
Milton Contact Limited
3 Hall End, Milton, Cambridge, UK
CB24 6AQ
www.miltoncontact.co.uk
* * * * * *
CONTENTS
Acknowledgements
Foreword by Dr Stephen Upex: Votives and favourite gods; secrets from the ancient world
Introduction
Basic Numismatic Terms Common to this Catalogue
Roman Coins with Wellbeing, Deity and Votive Value
Celtic (late Iron Age) Gold Coins with Probable Religious Significance
Anglo Saxon Silver Coins with Religious Significance
Wealthy Little Girl's Cremation Burial
* * * * * *
Acknowledgements
Thanks to the Cambridge Antiquarian Society for their generous grants and to its members who gave this project wonderful support. Thank you to the Huntingdonshire Local History Society for their Goodliff Award to this project. Special Thanks to Quinton Carroll, Historic Environment Team Manager, Cambridgeshire, without whom this project would not have happened. With their scholarship and attribution skills, the following distinguished archaeologists have provided an academic bedrock for this project. Dr Bob Burn-Murdoch MA MBE, past curator Norris Museum, St Ives, Huntingdonshire. Geoffrey Dannell FSA; Michael Green FSA, RIBA, past President of the Cambridge Antiquarian Society. Alison Taylor FSA MCIfA, past President of the Cambridge Antiquarian Society and Cambridgeshire numismatist, Richard Ashford. Also thanks to Dane Kurth, who runs Wildwinds Coins, a worldwide database of ancient coins with coins being added every week.
Thanks go to the following people for their help with the collections and catalogue: Richard Ashford; Simon Ashford; Ralph Clark; Beryl George; Stanley George; Stephen George; Imogen Gunn, Collections Manager Museum of Archaeology and Anthropology, Cambridge; Sue Jones; Dot Reeve; Sarah Russell, Norris Museum Director; David Stokes, Chairman Porch Museum; Edward Thackray; Rachel Thurley; and all the other collectors who wish to remain anonymous.
Thanks also to Chris and Jane Thomas of Milton Contact Limited for their knowledgeable and friendly help and advice in the production of this catalogue.
Thanks to John Morrison, our lead photographer, who became so fascinated by the project that he gave some of his service free. Also to Peter Baughan and Chris Thomas for photographic assistance.
Kate Hadley August 2017
* * * * * *
Forword
Votives and favourite gods; secrets from the ancient world
A foreword by Stephen Upex, FSA, MIFA
This is a catalogue of material from Godmanchester, the Roman town of Durovigutum, but also from the Cambridgeshire Roman province, roughly along the Fen edge and the main Roman roads from the coast and from London to Hadrian's Wall. It contains the scholarly identification of artefacts along with high quality photographs which come from chance finds, local, private collections and items of international importance on display in major museums. This particular section of the catalogue deals with the religious aspects of Roman life within the area and aims to give an insight into the sometimes complex thinking behind the belief systems of the period and the symbolism, status and values which people placed on the worship of their deities. Roman gods are well represented but the local Celtic gods, which dominated in the earlier Iron Age, are still present and show the way that Roman law and officialdom allowed the continued worship of traditional gods. Indeed, the marrying of Roman with Celtic deities is significant for placating the unrest that the removal of earlier, traditional gods might have caused and was a deliberate policy throughout the empire. The collection presented here contains descriptions and images of the gods on a variety of objects ranging from Minerva, shown on a knife handle – who might have brought wisdom and wit to the dining table – to hunting images of Hercules or the goddess Diana on pottery vessels – perhaps reflecting the host's own skill or love of the hunt. The highlight of the collection has to be the animal pipeclay figurines accompanying the burial of a child into her afterlife and provides an extraordinary and poignant comment on the parents who provided their daughter with such fine objects for her funeral. Kate Hadley has done a remarkable job in first assembling this collection and then preparing the catalogue which is both user-friendly and erudite and will be a valuable addition to the academic world in a wider sphere and to people and schools within the area. I think that all the archaeologists, including the distinguished Michael Green have enjoyed working on this project because the finds are fascinating, but not least because Kate is a good colleague. The Romans were like us in many ways and this fascinating catalogue both entertains and informs us with some of the secrets from the ancient world
S. Upex. 2017
* * * * * *
Note from Kate Hadley:
The free pictures in this catalogue are at high resolution, sometimes up to 4 megapixels. This has been done to provide people with a decent image to use in print, film and posters, facilitate their work and remove the problem of cost. I will be happy to send you higher resolution pictures and attributions, but would ask that attributions are used in a way that honours collectors and the academics who have given this project their time and expertise.
Where find sites are not recorded, they can be provided by the collectors.
* * * * * *
Introduction
A great many everyday Roman items have religious significance. Jewellery, especially zoomorphic – animal-shaped – jewellery, was almost certainly worn both for its beauty but also its protective and fortune boosting properties. (*See jewellery section, Zoomorphic brooches). Pottery decorated with human or animal forms – usually representing deities or with symbolic spiritual powers – also have religious significance bringing grace, but also the subtle energy of a blessing to the table.
In Roman times coins combine news bearing from the Empire with religious powers. Famous Roman news bearers include this lovely silver denarius found locally and minted 70- 71 AD during the Emperor Vespasian's rule, 69-79 AD (see entry 4). It depicts a captured and bound Jewish woman on the reverse, thus celebrating the emperor's destruction of the Temple at Jerusalem in 70 AD. In exergue, the title IVDAEA is easily readable. On the obverse, it is possible to make out ESPASIANVS AVG. Now in his sixties and regarded as a good soldier, emperor Vespasian was revered and loved by his subjects and soldiers. The coin's image would be seen as that of an emperor deity and the record of the sacking of Jerusalem on its reverse becomes a morale boosting legend for the empire's subjects. Thus, it has two roles – as a triumphalist news bearing coin and as a votive object. News of Christianity as an officially recognised religion was announced during the reign of Constantine the Great and then Constantius II, with coins dated around 352 AD in Godmanchester bearing a Christian Chi-Rho symbol on the reverse. Such coins combine news bearing with a direct religious connotation allowing Rome's subjects to safely include Christian worship alongside their conventional practise of reverences for more traditional deities. On a lighter and pleasurable side, Roman coin makers very often put images of cheerful, life enhancing deities on the reverse of their coins. No doubt these coins with images of much loved Venus (love and beauty), Felicitas (good luck) and others provided minters with positive feedback from their customers. While it is impossible to truly understand nowadays how it felt to be Roman, we do know that for the Empire's citizens the Otherworld was a whisper away from this world, existing in conjunction with their own daily life. They felt that deities really could bring a person luck and harmony and these coins created a pocketful of happiness. Examples today of contemporary other worldly beings who make us feel good must include Father Christmas, and St Frances. All religions have favourite saints and deities. Only a few coins have been chosen for this section. More will be seen when the coin section is published. Other items here have a more fundamental religious role and significance. Some graced household temples, lararia. Some artefacts like the lovely bronze Minerva knife handles in this section of the catalogue have almost certainly been made to double up as votive figurines for such a temple. Others seem to have been made to carry about and that must also include the Minerva knife handles.
Godmanchester had its own deity Abandinus, in the Iron Age and in Roman times. He is known from a single inscription on a bronze votive feather found in the town. 'To the god Abandinus. Vatiaucus gave this from his own resources.' Sadly, the bronze feather appears to have been mislaid although the Norris Museum in St Ives has a wax copy.
* * * * * *
Basic Numismatic terms common to this catalogue
In exergue: is the numismatist's term for a space beneath the main design of the coin, often giving the place of production, the mint. Die Axis: This is a commonly used numismatic term and helpful in identifying Roman coins from modern copies. Die axis or coin rotation describes how the obverse and reverse dies were aligned to each other when the coin was struck. How to arrive at a die axis: Place the coin with its head (obverse) facing vertically between a forefinger at 12 o'clock and thumb at 6 o'clock. Spin the coin around to view the other side (the reverse). After spinning, check which way the reverse design is pointing. If the REVERSE design is still vertical, this is a 12 o'clock die axis, but if it is upside down it is a 6 o'clock die axis. These are the usual two Roman coin die axes used by the Roman mint. Die axes elsewhere on the clock face are usually contemporary copies, including most Barbarous copies. Some genuinely minted coins may not always be 12 or 6 and may have a one place over orientation. (See this section of the catalogue, item 4, the Vespasian silver denarius).