25 YEARS OF GOODLIFF AWARDS
The Huntingdonshire Local History Society celebrated 25 years of presenting Goodliff Awards. Over the 25 years we have been able to make some 250 awards distributing over £150,000 to individuals, local history groups and institutions, assisting research into and promotion of the history of the old county of Huntingdonshire.
In 2020, due to Covid restrictions, we were unable to present Awards to the winners. However, on evening of Wednesday 10th November 2021, in the Huntingdon Town Hall, we were very proud for our President, David Cozens, to present Awards to 10 people who were granted their award in 2020 and 14 people in 2021.
David Cozens and Mrs Caroline Clifford made a special presentation to Mrs Kate Hadley, to thank her for over 6 years of being the Administrator of the Goodliff Award Scheme.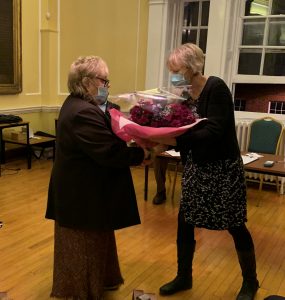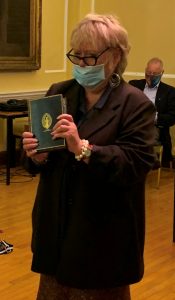 Goodliff Awards for 2020
Joint Award for The Cromwell Museum and The Norris Museum, for the creation of a typical 17th Century Huntingdonshire peddler's basket and teaching pack to encourage young children to engage with local museums.
Godmanchester Museum (David Stokes), for presentation boards to display information about the history of the local landscape, natural wildlife and residents of Godmanchester.
Huntingdonshire History Festival (Michael Addis), to support the many children's activities during the 2020 History Festival.
Nene Valley Archaeology Trust (Sylvia Upex), excavation of a Romano-Celtic shrine/temple in the Roman Town of Durobrivae
Ramsey Abbey Community Archaeology Project (Roger Mould),publication of a 'Dig Diary' booklet providing information on the project, work carried out and the people involved with the excavations at Abbey in Ramsey
Ramsey Rural Museum (Dr Ian Gaunt, Curator), preparation and printing of booklet and banners on the history of the Museum, Abbey and the Fellowes family
St Neots Museum (Liz Davies, Curator), collect oral history testimonials about St Neots and the surrounding area during WW2, transcribe them and publish in a booklet about St Neots in the Second World War
Mrs Kate Hadley, for developing a website and image bank of photographs and illustrations of Iron Age, Roman and other ancient treasures found in Godmanchester and Cambridgeshire.
Professor David Yeandle, for the publication of a book about the life of Dr Joh Hunt, Curate of All Saints Church, St Ives (1865 – 66).
Mrs Dorothy Ann James, research into and preparation of biographical records of the Huntingdonshire convicts sentenced to transportation. Year 1 purchase of computer, software and membership of research databases. Document first 160 biographies. This will be a 4 year family history project with likely requests for support for the remaining 3 years.
Goodliff Awards 2021
Mr William Beeke, publication of a book about the Victorian brick tunnels under the Great Whyte in Ramsey.
Dr Charles Beresford and Professor David Yeandle, publication of a book about the Rectors and other Clergy of the Parish of St. Margaret of Antioch, Hemingford Abbots.
Huntingdonshire Community Nostalgia Group (Mr Karl Brockett), publication of a book of photographs and illustrations showing the modern history of Huntingdon.
Local History Society (Mr Barry Jobbling), a permanent exhibition in Buckden Village Hall of the archaeological excavation of a nationally important Anglo-Saxon estate on the south-western edge of the present village.
Cromwell Museum Trust (Ms Kristina Kapitza), for production of three professionally produced 20-minute tour videos focussing on the Museum's collections, the historic building, and the story of Oliver Cromwell to engage schools and groups with Huntingdon's local history
Mr Don Hill, publication of a booklet telling the story of the Medieval Hundred Assembly (Moot Site) at Toseland
Mrs Dorothy Anne James, continued research and documentation of the biographical information about Huntingdonshire convicts sentenced to transportation
Mr Roger Leivers, publication of a book on the lives of local residents in Godmanchester and the intrigue of spies and espionage at Farm Hall during the Second World War.
Ramsey Rural Museum (Mrs Sally Elding), for publication of an information pack and teaching notes about the lives of children from the Ramsey District accused of crimes.
Ramsey Abbey Walled Kitchen Garden Trust (Mrs Jane Sills), for a new website promoting and providing information about the garden and the plants grown.
Mrs Gillian Rayment, for publication of a series of booklets about the history of people, shops, industry and trades in Ramsey.
Mr Martyn Smith, replacement scanner and projector to support his continued research and talks about the history of Ramsey and the Hunts Cyclist Batttalion.
All Saints Church. Elton (Mrs Gillian Thompson), the preservation and moving two unique Saxon Crosses into the Church.
St Mary the Virgin Church, Leighton Bromswold (Mr Hugh West), for publication of a booklet about the Grade 1 listed Church, built in 1248 and rebuilt and changed by Mr George Herbert in 1632.
Previous Goodliff Award Winners
Information and photographs of previous years awards and recipients can be accessed through the links below:
Goodliff Awards for 2013 – no awards were given.
Goodliff Award Publications
Some of the previous winners of a Goodliff Award have published books or leaflets, here are a few examples [here]