When:
December 16, 2022 @ 7:45 pm – 10:15 pm
2022-12-16T19:45:00+00:00
2022-12-16T22:15:00+00:00
Where:
Assembly Rooms, Town Hall, Huntingdon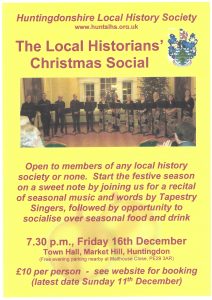 Come along and help us celebrate the Festive Season with a musical evening with the renouned period choir, The Tapestry Singers. Anyone who remembers Tapestry's last visit in 2016 will know what an accomplished and versitile group of singers they are.
Click on the link Programme of Songs to downlaod the programme for the evening
Afterwards join us for a social to enjoy food and drink and the chance to catch up with members. This year to shall be providing all food and drink.
To book please use the 'Christmas Social Reply Slip' and return it to our treasurer, David Smith. There is a small charge of £10 per person and we ask you ro either transfer the money to the Society's bank account or send a cheque with your application to David.