When:
November 1, 2023 @ 7:30 pm – 9:45 pm
2023-11-01T19:30:00+00:00
2023-11-01T21:45:00+00:00
Where:
Assembly Rooms, Town Hall, Huntingdon

Goodliff Awards Presentation Evening
This year we recieved and awarded a number of applications for an amazing variety of projects, popular and academic, spanning many centuries and types of history, covering the length and breadth of Huntingdonshire. Do come along, hear about these projects and congratulate the successful applicants for their prestigious awards.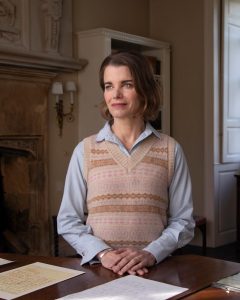 Our new President, Julie Montagu, Viscountess Hinchingbrooke, will present the awards and afterwards give a talk of an earlier American member of the family, Alberta Countess of Sandwich.
On 25th July 1905 Alberta Sturges, born 1877 in Chicago, made a truely life-altering marriage to George Montagu. Eleven years later, on the death of his father, George became the 9th Earl of Sandwich and she the Countess. The couple moved into HInchingbrooke House, the family's ancestral seat since 1627. Their marriage would last an impressive 46 years till Alberta's death in 1951. Yet, beneath the surface intriguing questions remain. Did Alberta's heart belong in this marriage, or did she yearn for a life of contemplation as a nun? Did she compromise her own aspirations to fulfil those of her socially ambitious mother?
Alberta's story reveals a tapestry woven with threads of love, duty, and personal fulfilment, set against the rich backdrop of a storied family legacy in a period of profound societal change.
After the presentation and talk, please join us for some light refreshments and take the opportunity to talk with some of this year's award winners.
Disabled parking only on Market Hill (approach via HIgh Street from the South).
Please use the public car park at Malting Close (PE29 3AR)