When:
January 11, 2018 @ 7:30 pm – 10:00 pm
2018-01-11T19:30:00+00:00
2018-01-11T22:00:00+00:00
Where:
Huntingdon Methodist Church

The Godmanchester Stirling Crash – New pictures and untold family stories.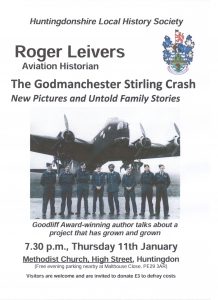 In 2012 the Godmanchester Community Association received an email inquiring about an aircraft that had crashed very near to Godmanchester during the Second World War. The email was given to Roger and not realising at the time this led Roger on a 5 years research project that resulted in a successful book telling the story of the crew and the aircraft. But the book really tells you of the emotional and heart rending stories of the crew and their families, the trials and tribulation of flying this gigantic aircraft often dogged by technical issues, and follows the lives, and tragic deaths, of everyone associated with the fateful aircraft and crew.
In 2015 Roger was awarded a Goodliff Grant by the Society to help publish his book 'Stirling to Essen The Godmanchester Stirling: a Bomber Command Story of Courage and Tragedy.
Roger Leivers is coming to update us on his project on the Godmanchester Stirling crash. It will be rather different to what he has spoken about before, so don't make the mistake of believing you've heard it somewhere else before.
Copies of is book will be available to buy on the night.