When:
March 8, 2018 @ 7:30 pm – 10:00 pm
2018-03-08T19:30:00+00:00
2018-03-08T22:00:00+00:00
Where:
Huntingdon Methodist Church

The Anglo-Saxons in Huntingdonshire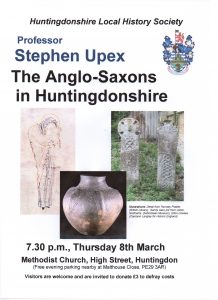 Dr Upex is probable best known for his expertise on the Romans in the Nene Valley, but his academic range is much wider. Here he ventures later and on to a broader canvas to examine the effects of those who supplanted the Romans.
Whilst the Romans changed the face of Europe and England for ever with towns and particularly our road structure that we are still using today, the Angles and the Saxons who occupied England after them had as much impact on how this country was structured. However, finding evidence in the ground of their existence, buildings, roads and towns is not always as easy as it could be as they built mainly in wood. Recent building and new road constructions has revealed more information of our Anglo Saxon ancestors.