When:
February 12, 2020 @ 7:30 pm – 9:30 pm
2020-02-12T19:30:00+00:00
2020-02-12T21:30:00+00:00
Where:
Huntingdon Methodist Church
17 High Street
Huntingdon PE29 3TE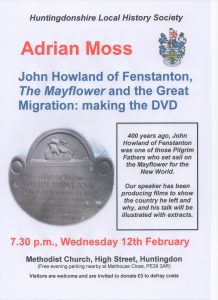 Adrian Moss will talk about John Howland of Fenstanton. He was born in 1599, the son of Henry and Margaret Howland. In 1620 he sailed on the Mayflower as an indentured man servant of Governor John Carver to settle in Plymouth in the 'New World'. John's voyage was not without drama. During a storm he fell overboard and it was only through luck that he was able to grab hold of a trailing rope and was eventually rescued. In later years he became personal secretary to the Governor and was instrumental in the making of a treaty with the local native American tribe, Sachem Massasoit.
John married Elizabeth Tilley in about 1624 and they had 10 children. John died in 1672/3 at Rocky Nook, Plymouth USA. But, that's not where the story of John Howland ends, for his many decedents, including Theodore Roosevelt, George Bush and George W. Bush held the highest office in the USA.
Today there is a thriving John Howland Society (https://pilgrimjohnhowlandsociety.org/Society) founded in 1897 that catalogues the story of this amazing man and his decedents.