When:
November 9, 2022 @ 7:30 pm – 9:30 pm
2022-11-09T19:30:00+00:00
2022-11-09T21:30:00+00:00
Where:
Methodist Church, Huntingdon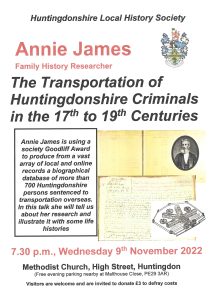 Mrs Annie James, a local geanology historian, has been researching Huntingdonshire criminals that were sentenced to transportation overseas, and she has tracked down over 700 such individuals in archives in the UK and in online versions of archives in Australia and elsewhere. The results of her research is a fascinating insight into society and how it treated its more wayward members in the 18th and 19th centuries. Annie, who has been a recipient of a number of Goodliff Awards in support of her project, will be speaking to us about her work in compiling a biographical register of Huntingdonshire criminals.
This is going to be a eye opening expose of our historical judicial system and will bring home possible truths about some of Huntingdonshire's criminal fraternity and how quirks of fate changed lives and impacted the fledgling Commonwealth.
The talk will be held in the Methodist Church, Huntingdon High Street, is free to members and is open to visitors; all we ask is for visitors to make a small £3 donation for the evening.
As usual, after the talk light refreshments of tea and coffee we will be available and you will get the opportunity to talk directly with Annie and any other members of the Society.