Mar
10
Thu
Society Lecture: Revising Pevsner (Charles O'Brien)

@ Huntingdon Methodist Church
Mar 10 @ 7:30 pm – 10:00 pm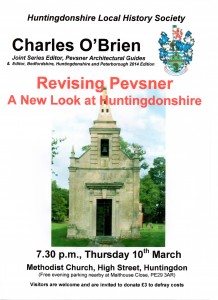 REVISING PEVSNER – A new look at the buildings of Huntingdonshire.
This coming Thursday, 10th March 2016, we have Charles O'Brien coming to talk about revising Nikolaus Pevsner's volume containing Huntingdonshire in his famous Buildings of England series.
Nikolaus Pevsner found that the study of architectural history had poor coverage in published documents and received little status in academic circles. Information available to the wider public about the architecture of a particular district, was limited. He conceived the idea to write a series of comprehensive county guides to rectify this omission.
The book covering the architecture of our own area of Bedfordshire, Huntingdonshire and Peterborough was first published in 1968 and was revised in 2014. The appearance of the new edition, like the original one, was a landmark in the understanding of Huntingdonshire's built heritage, and I hope you will feel encouraged to come and hear about the research and writing which went into it.
Dr O'Brien is not only the editor of this volume but also joint Series Editor, and was recently appointed one of the Commissioners of Historic England, the body that now has overall responsibility for the National Heritage Collection managed by English Heritage. We are delighted that he is coming to speak to us.
Usual time and venue: 7.30 p.m., Thursday 10th March, Huntingdon Methodist Church.