May
20
Fri
Huntingdon Library – Pathfinder Force: The Berlin and Peenemunde Raids

@ Huntingdon Library
May 20 @ 2:00 pm – 3:30 pm
THE PATHFINDER COLLECTIONS: PATHFINDER FORCE: The Bombing Missions on Berlin and Peenemunde.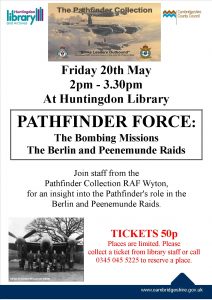 The staff of the Pathfinder Collection at RAF Wyton will give an insight into the Pathfinders role in the Berlin and Peenemunde Raids.
Tickets are 50p. Places are limited. Please collect a ticket from the library staff or call 0345 045 5225 to reserve a place.