When:
November 28, 2018 @ 7:30 pm – 10:00 pm
2018-11-28T19:30:00+00:00
2018-11-28T22:00:00+00:00
Where:
Huntingdon Town HAll

We have a set of lectures coming up at the end of November/beginning of December, with some top class speakers.
If you would like to book for all three talks, you can book a discounted 'season ticket' for all three at: https://www.eventbrite.co.uk/e/the-cromwell-lecture-series-2018-tickets-51148951892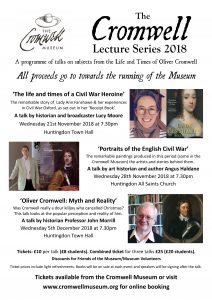 The second talk (on 28 November) is on 'Portraits of the English Civil War' by Art Historian and author Angus Haldane, based on his recent book. Details and bookings for this talk alone are at: https://www.eventbrite.co.uk/e/portraits-of-the-english-civil-war-a-talk-by-angus-haldane-tickets-51147711181
Tickets are also available from the front desk at the Cromwell Museum.