When:
November 15, 2018 @ 7:30 pm – 9:45 pm
2018-11-15T19:30:00+00:00
2018-11-15T21:45:00+00:00
Where:
Huntingdon Town Hall

The King, the Actress and the Cardinal: the birth of London's West End.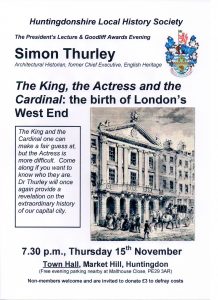 Dr Simon Thurley's lecture this year is entitled The King, the Actress and the Cardinal; the birth of London's West End. The King and the Cardinal one can make a fair guess at, but the Actress is a little more difficult. Come along if you want to know who they are. It is bound to be another revelation on the extraordinary history of our capital city.
The evening will start off with the Goodliff Award Ceremony when Dr Thurley will present awards to:
Jane Adams, St Peter and St Paul's Parish Church Alconbury – the publication of an information booklet and childrens guide to the church.
Jane Watson, publication of a booklet on the history of Barham village.
The Cromwell Museum Trust (Stuart Orme) – design and production new external signage and display boards.
Beth Davis – publication of the WW2 memoirs of Bert Goodwin.
The Nene Valley Archaeological Trust (Dr Stephen Upex) – magnetometer survey of the walled area of the Roman town of Durobrivae.
All Saints Church Elton Reformation Committee (Joanne Borrett) – publication of information booklet/story board about the stained glass windows and Saxon crosses.
Peter Cooper – Development and publish on-line interactive maps of Holywell-cum-Needingworth.
Huntingdonshire History Festival (Mike Addis) – funding in support of the 2018 History Festival.
The Norris Museum (Sarah Russell)– Production of learning session materials entitled, 'Cromwell the Man, Friend or Foe?'.
Roger Reynolds – Publication of a book, 'Ramsey at War' covering the period 1939 to 1946.