When:
October 9, 2019 @ 7:30 pm – 9:30 pm
2019-10-09T19:30:00+01:00
2019-10-09T21:30:00+01:00
Where:
Huntingdon Methodist Church
17 High Street
Huntingdon
PE29 3TE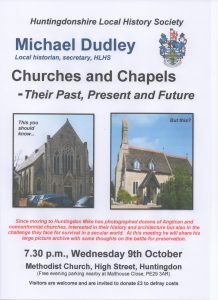 Michael Dudley will talk about the growth of chapels and churches in the local area and how the church landscape has changed over the centuries.
Throughout the country there are today more places of worship than clergy to conduct weekly services in them. Church attendance and communicants has declined significantly and our churches are now in a position where the cost of upkeep and maintenance is being bourn by fewer folk. Sadly, a great number of our churches, a lot of them listed buildings, are beginning to fall into decay; not helped by the thoughtless actions of some thieves stealing the lead of the roof resulting in enormous cost of damage to the fabric of the buildings.
Many of the older churches are fine architectural edifices that should be preserved regardless of declining finances. We have seen charitable organisations such as The Churches Preservation Trust, The National Trust and Heritage England, formed to stem the tide of decay and dereliction of our architectural heritage, helping to restore and preserve these old estates and building for everyone to enjoy. So, what is to become of our churches and chapels? Will more be sold off to become desirable homes for the few?
Come along to hear Michael Dudley's talk and get to know what can be done.