When:
March 11, 2020 @ 7:30 pm – 9:30 pm
2020-03-11T19:30:00+00:00
2020-03-11T21:30:00+00:00
Where:
Huntingdon Methodist Church
17 High Street
Huntingdon PE29 3TE
SPALDING GENTLEMEN'S SOCIETY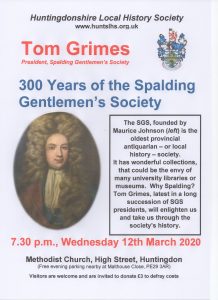 Founded in 1710 The Spalding Gentlemen's Society, is one of the oldest learned societies in the UK and is reputably the earliest provincial association for the encouragement of antiquarianism. Founded by Maurice Johnson (1688-1755), the Society began with a series of informal meetings of a few local gentlemen at a coffee house in the Abbey Yard, Spalding. Initially a 'Society of Gentlemen, for the supporting of mutual benevolence and their improvement in the liberal sciences and in polite learning', it was a male preserve for over 300 years. Although in 1971 five notable female local historians were created Fellows of the Society in acknowledgement of their work, they were still not conferred as members. It wasn't until 2006 that a historic vote was taken to admit women as members of the Society. The first woman joined as a member in 2007. The Duke of Buccleuch have been the patrons of the Society since 1732 and the current 10th Duke of Buccleuch, Richard Montague Douglas Scott is the present Patron.
This prodigious Society is able to count as its members some notable figures; Sir Isaac Newon, Sir Hans Sloane, Alexander Pope, Dr William Stukeley, Sir Edward Bellamy, Sir G. Gilbert Scott, Lord Tennyson, Lord Curzon of Kedleston and Lord Peckover of Wisbech.
The Society's home is a Grade II listed building on Broad Street in Spalding, purpose built to house the Society's collections. The Society, has an extensive archive of manuscripts, drawings, maps and prints dating from the 13th century to the present day. Also amongst its most treasured possessions are the Society's minutes of meetings, account books, lecture notes and collections of correspondence. Important manuscripts from Crowland Abbey and Spalding Priory are preserved in the collection.
The Society also has an extensive museum collection that, with the exception of the Ashmolean, is the oldest in the Kingdom. On display are a rare specimen of Jas Christopher le Bon's tapestry 'A head of Christ', a fine astrolabe dated at 1565, a map of 1732 Spalding by John Grundy.
The Society has a large active membership today and holds regular public lectures from September to March on cultural, scientific and antiquarian subjects.
To find out more about this fascinating and ancient Society, come and listen to the talk by Tom Grimes, the current President of the Spalding Gentlemen's Society, and join us later in the summer on our visit to the Society in Spalding.
You can access the Society's webpage at https://www.sgsoc.org