When:
January 8, 2020 @ 7:30 pm – 9:30 pm
2020-01-08T19:30:00+00:00
2020-01-08T21:30:00+00:00
Where:
Huntingdon Methodist Church
17 High Street
Huntingdon
PE29 3TE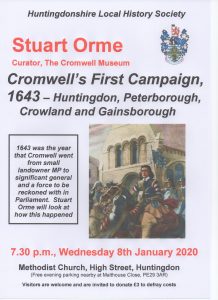 Stuart Orme, the Curator of the Cromwell Museum will talk to us about Oliver Cromwell's first campaigns in 1643 at Huntingdon, Peterborough, Crowland and the Battle of Gainsborough on 28th July. Cromwell went from a small landowner MP to a significant General and a force to be reckoned with in Parliament. Cromwell was first elected to Parliament in 1628 but by 1631 he was in financial difficulty and was forced to sell his land. He returned to Parliament in 1640 but by 1642 armed conflict had begun between Charles 1 and Parliament. It was in 1642 that Cromwell's career as a military leader began. He distinguished himself in battle at Edgehill in 1642 and again in the East in 42 and 43. By 1644 he had risen to the rank of Lieutenant General.
Stuart Orme will look at the early career of Cromwell and his meteoric rise to the highest ranks of the New Model Army.
Visitors are welcome and are invited to donate £3 to defray costs.